4603 Poplar Level Rd.
Louisville, KY 40213
1-877-862-1097
First Start Reading

$29.95
Books A, B, C, & Teacher Guide
First Start Reading Student Set

$21.00
Books A, B, & C
As a member of the TOS Review Crew I receive quite a variety of products and curriculum to check out and "test" with my children. It's always fun to see them learning, especially when they are learning something important and useful. Our latest adventure is trying to teach my youngest phonics and how to read. We recently received Classical Phonics and First Start Reading from Memoria Press to use in exchange for an honest review of the books. We're having an interesting time trying these books with a little boy who would rather run and play. Let me tell you about these books that get your child learning phonics, reading and printing.
Classical Phonics: A Child's Guide to Word Mastery
by Cheryl Lowe (based on Florence Akin's
Word Mastery
) - 126 pages ****
See a
sample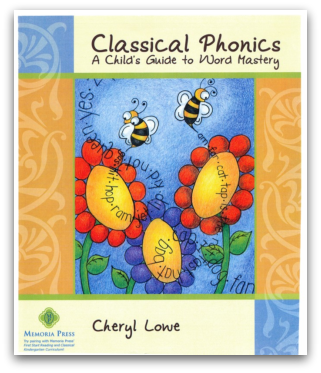 Classical Phonics is an uncluttered little book which teachers and families can use with their children in Kindergarten and first grade. Phonetically-arranged word lists allow students to practice phonics skills. The theory behind this book is that in a word list there are no context clues, so the child must rely on his mastery of letter sounds. The thought is that if your child can pronounce each word in this list correctly – pot, pat, pit, put, pet – he knows his short vowel sounds, and you can move on to long vowels! If not, according to the author, he needs more practice. This book has a few pictures to associate with the alphabet, but the rest of the book contains word lists. The pictures are simple drawings, and the book is black and white with some blue margins--no flashy, colorful pictures to distract children from the task at hand. This book provides the repetition needed to learn to read--teach/reteach the sounds and phonics rules, review, practice and achieve the ability to read progressively tougher words. Classical Phonics,which can be used as a supplement to any phonics program, covers most of the English phonograms and sounds through second grade level. The book contains 10 Units in 2 parts. The lessons contain sounds, phonics rules and assessments to ensure mastery before moving on. The book also contains suggestions to teachers regarding ear training, tongue training, eye training, and word training. By the end of the book your child learns over 2000 different words.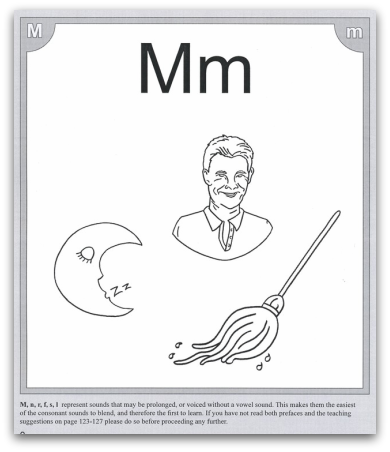 Success? Well, not yet. We've started the process, but I think it is going to take a bit longer for my youngest to sit still more than 10-15 minutes at a time to get a bit more out of the book. I love seeing him attempt a word list. We're moving slow, but we're finally moving! Hopefully my second bookworm will be reading on his own soon. Although many books have colorful pictures and layouts, I like the simple black and white presentation in this book--hopefully less distraction equals more learning. The book is easy to use and priced reasonably. I look forward to continuing to use this book as a reference tool for quite a while.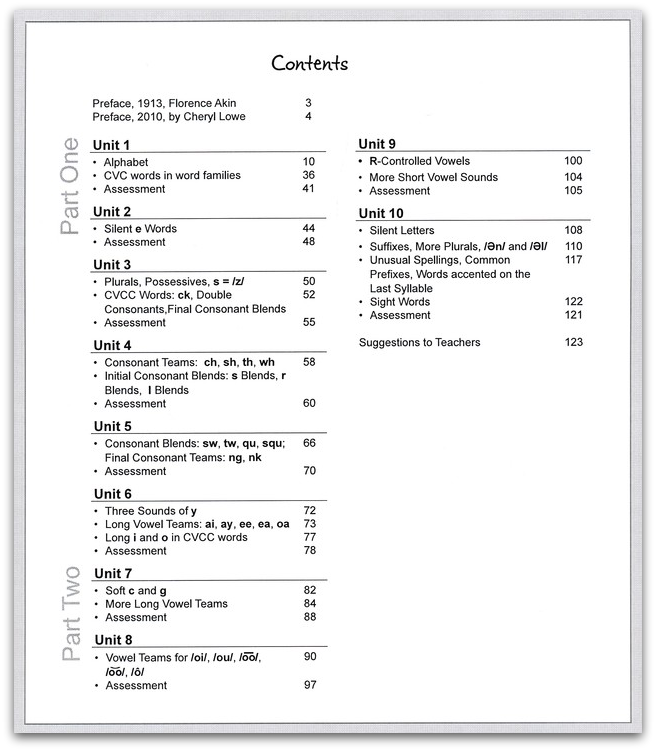 First Start Reading: Phonics, Reading, and Printing
(set of 3 + teacher guide) by Cheryl Lowe
Let me start with Wow! First Start Reading covers consonants, short vowels, 45 common words, and manuscript printing, accompanied by artist-drawn coloring pictures and drawing pages for every letter. Children begin reading in the very first lesson. With First Start Reading children progress through three student books and twenty-five phonetic stories. The Teacher Manual contains an Introduction including an Alphabet Chart, a Phonics syllabi for Books A, B, and C, a Phonics overview, and Pencil Grip and Printing Lessons. Lesson Plans for the 3 student books are provided as well as some helpful posters. Lessons contain an introduction of letter name and sound, ear training, letter formation and printing practice. Lessons progress to reading and writing short sentences. Children also draw pictures based on their reading and write from dictation. The Student books are simple and easy to follow. Again, like Classical Phonics, there are pictures which are relatively simple--not colorful and flashy. I like the less distraction equals more learning presentation of the student books. Simple, but effective!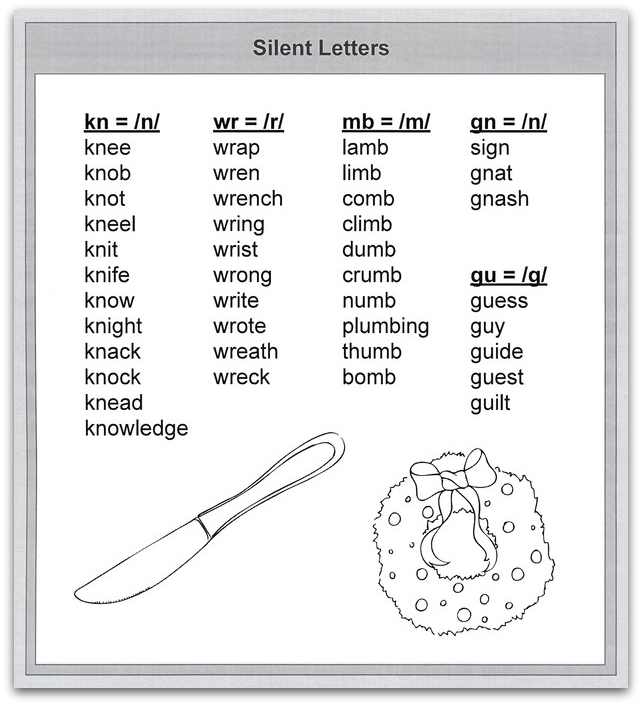 So, how's it going? Well, we're coming along with the sounds and reading process. My son now realizes that not all combinations of letters are actually words. He's quite excited to figure out how to sound out the words he sees, but he isn't so crazy about slowing down to write the words. We're working on the writing in between, but we're not stressing about the fact that the writing and reading are not coming at the same rate. (We're also using a reading game to work on site words. Watch for a review of The Reading Game soon!) We're remembering that each child is different. We're also remember that our first child didn't feel confident reading until about age 9.
This mom is liking this combination of books and thankful for the blessing we've received from Memoria Press.
click here to view
sample pages
from Book B
Memoria Press offers a full refund of the price of their products for 60 days. If you are not satisfied with your purchase for any reason, you can return it in resalable condition, and they will issue an exchange or refund for the full price of the products.

Reviewing for the TOS Crew is never dull - stop by
here
to see what other Crew members thought of these books.
Disclaimer: As a member of the TOS Review Crew I received First Start Reading and
Classical Phonics free in order to prepare this review. I have not and will not receive further compensation. Comments and observations are my own. I am not obligated to provide a positive review.