The Person I Marry – Things I'll Think About Long Before Saying "I Do"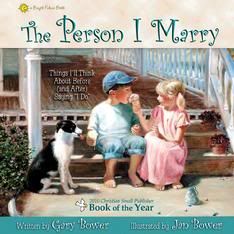 Written by Gary Bower
Featuring the Oil Paintings of Jan Bower
Storybook Meadow Publishing Company
7700 Timbers Tr.
Traverse City, Michigan 49684
Phone: 231-941-0899
Orders: 888-898-3207 * Fax: 231-947-8903
**A Bright Future Book
Printed and bound in Canada
ISBN-13: 978-0-9704621-7-6
ISBN-10: 0-9704621-7-4
$11.99
All Ages
Visit Bower Books
Click here to see book reviews
We recently received a free e-book version of the sweetest book I've read in a very long time. Let me tell you about
The Person I Marry
by Gary and Jan Bower.
Gary Bower has written this story in verse form, and Jan Bower has done beautiful oil paintings to illustrate the ideas in the book. This wonderful book is about all of the things to think about before getting married--the important "internal" stuff. The story begins with a girl going to a wedding and being captivated by the dresses, tuxes, rings, candles, curls and floral bouquets. The girl's very wise mom sits and tells her daughter about the "who" rather than the "what" that makes a great wedding. She reminds her daughter that the
person you marry
is the important part of a wedding.
The girl then ponders all of the important internal qualities to consider about the person she'll marry including qualities such as: sincerity, kindness, courteousness, graciousness, tactfulness, optimism, perseverance, ability to laugh, joyfulness, patience, respectfulness, faithfulness, belief in God as the supreme Creator--loving God first and her second, moral purity, modesty, integrity, and many others. She thinks that a true believer who is prayerful and hungry for God's word is a very important part of the high standards to be met because the vows made in marriage are meant to be kept. The book finishes with a place to list the things to work on and look for in the "The Person I Marry".
My daughter and I really liked this book. The verse form is engaging and thoughtful. The paintings are beautiful! This book gave us a lot to think about and discuss before my children marry. I look forward to discussing this book again as my children are older. This would be the perfect gift for anyone with a child old enough to be considering relationships and marriage. I suspect we'll be purchasing this book for the children of several of our friends.

Would you like to see what other TOS Review Crew members thought? Click
here
.
Disclaimer: I received a free e-book copy of the above-mentioned book to read in order to prepare this review. Opinions and comments are my own. I did not and will not receive other compensation for this review. I am not obligated to provide a positive review.
Gary and Jan also have a number of other books including: There's a Party in Heaven!, Tessa's Treasures, Wyatt's Wagon, Ivy's Icicle, Cody's Castle, I'm a Michigan Kid!, Michigan Kid Passport, and The Michigan Kid Coloring and Activity Book. They have 12 children and four grandchildren.
Gary Bower is also a storyteller, and an encouraging and entertaining speaker. To find out how he can serve your group, call 1-888-898-3207.