Excellence in Literature - Introduction to Literature

(English 1)
Janice Campbell
jceved@comcast.net
Everyday Education, LLC
P.O. Box 549
Ashland, VA 23005
Print or instant download e-book - online books in 2012.
Print Book $29(+s/h)/E-book $27- 132 pages
Purchase
here
Free info sheet/5 year booklist
here
We've been using an excellent literature and composition course for about a month. Let me tell you about it. This college-preparatory course,
for grades 8-12
, uses focus works including novels, short stories, poems, and drama. Context readings are also included to provide background information about the author, the historical period, and the literary and artistic context of the focus work. The book contains the course outline, assignments schedules, models of the papers to be written, and evaluation information.
While library books can be used, the author suggests purchasing your own copies so that underlining, notes in the margins, etc. may be used while reading. (We used thrift stores and
Paperback Swap
.) There are a lot of internet resources included to encourage responsible computer use--and also to save money (free). The only required readings are the book and the focus texts.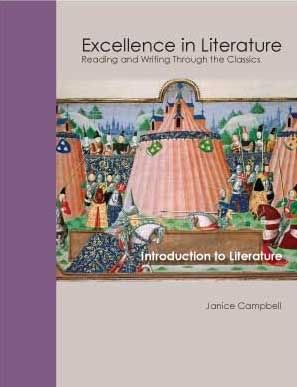 Introduction to Literature
allows students to gain an understanding of the development of literature and practice literary analysis through essays, approach papers and other writing. When they are finished the student should understand the process of writing through the use of resources like a writer's handbook, dictionary, and thesaurus. The goal is to have an understanding of representative texts by major authors as well as an understanding of the historical and cultural contexts of the works. Analysis of literary texts and presentation of ideas in writing are thought to make your student competent in essay organization, style, and mechanics.
Introduction to Literature readings include:
Short Stories:

A White Heron, The Purloined Letter, The Diamond Necklace, The Ransom of Red Chief, A Worn Path, The Secret Life of Walter Mitty

Other Literature:

Around the World in Eighty Days

(Verne), A Connecticut Yankee in King Arthur's Court (Twain), Jane Eyre (Bronte), Pygmalion (Shaw), Treasure Island (Stevenson), Animal Farm (Orwell), The Tempest (Shakespeare) and Gulliver's Travels (Swift)
**Books listed are focus texts only. Context readings are also assigned within each unit. In addition there is an Honors reading selection for each unit.
Example Unit contents:
Unit 1 includes:

Focus Texts, Context Reading, Honors Readings, Unit Focus, Introduction, Something to Think About, Be Sure to Notice, Assignment Schedule for 4 weeks.

Unit 2 includes:

Same as first unit plus The Author's Life, Poetry, Audio, Video, Visual Arts, Music and Online Links
More information
here
The
Excellence in Literature
program is
self-directed
and encourages
independent learning and college-style study habits
. There are
9 four week units with week-by-week lesson plans
in each school year. The material covers Medieval, Renaissance, Neo-classical, Romantic, Realist and Modernist time periods. All volumes contain instructions, models, and a glossary. The additional context readings provide an understanding of literature in its historic and artistic context. (Links are also included.) Extra readings are suggested for an Honors option to allow for advanced college placement. The planned material can be mixed and matched according to your needs/desires.
The author suggests a minimum of one hour per day of reading and writing. She also suggests an additional 20-45 minutes of vocabulary work.
Take it or Leave it--My thoughts?
We've been reading through the short stories and beginning the first suggested books. Here's what I'm thinking . . .
**The stories have been more advanced reading than our previous materials used - great for vocabulary building. My 14 year old is definitely up to the challenge, which is interesting since she used to fight reading.
**My student is not excited about writing, but this has been a great opportunity to work on those skills.
**The suggested work time is appropriate.
**
I really like the focus on independent learning and study skills. We're trying to work on tackling more topics this way too.
**The materials have been inexpensive and easy to find.
**We'll probably be extending the coursework a bit further time-wise, but thankfully, this program accomodates that. Although I did take some college literature classes, a college education is definitely not required to use this well-planned course.
**The links included contain great additional information.
**The program/book list is easy to follow and contains excellent choices for reading even if you do not choose to use the EIL program.
**The book we received contains an enormous amount of material for the price--definitely a great buy!
Janice's suggested websites include: •
http://Everyday-Education.com
• Education blog:
http://Janice-Campbell.com
• Entrepreneur Blog:
http://DoingWhatMatters.com
•National Association of Independent Writers and Editors
http://NAIWE.com
How the author chose the books article
here
Cathy Duffy's review
here

Other TOS Review Crew thoughts
here
Complete Curriculum (5 levels) in a binder $139/E-book $135 (Volumes include: Introduction to Literature, Literature and Composition, American Literature, British Literature, World Literature)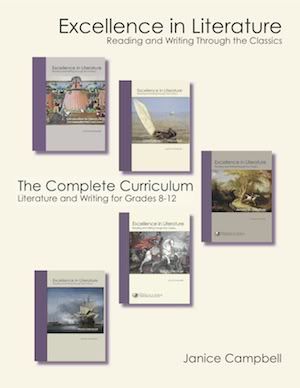 If you purchase a book from Everyday Education and it does not meet your needs/expectations, returns within 30 days for a full refund of purchase price are available.
Disclaimer: As a member of the TOS Review Crew I received a free copy of EIL's Introduction to Literature to use in exchange for an honest review. I have not and will not receive further compensation. All thoughts and comments are my own. I am not obligated to provide a positive review.