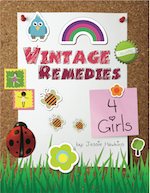 Vintage Remedies for Girls
Jessie Hawkins, 2010
Thistle Publications
Vintage Remedies, Inc.
230 Franklin Road, Suite 807
Franklin, TN 37064
615-807-0882
Ages 7-13
202 pages
As a member of the TOS Review Crew I recently received a free copy of
Vintage Remedies for Girls
to use in order to provide this review. This content-rich workbook teaches healthy and natural living to girls. The book covers many aspects of natural living including wellness, nutrition, herbal medicine, immunity, natural cleaning and body care, and the conservative use of valuable natural resources. The chapters are written for the girls to read but suggested projects are to be done together. (Adult participation is required.)
According to Vintage Remedies, using this book girls learn:
how to identify unhealthy foods
how to create a healthy real foods menu
how to make natural cleaning supplies and skin care
how to make cheese
how to grow culinary and medicinal herbs
how to create basic herbal preparations, and much, much more!
This workbook contains 18 chapters, each of which includes:
a brief topical lesson
a featured project (with recipes/instructions)
instructions for moms or group leaders
a selection of additional projects
The chapters are split into 3 sections and 3 appendices as follows:
Section One - Food, Nutrition, and Culinary Skills
Real Food
Kitchen Basics
Healthy Drinks
Snacktime
Sweet Desserts
Local Foods
Growing Your Food
Section Two - Health and Body
Beautiful You - Naturally
Immunity and Prevention
Coughs and Colds
Summertime Fun
Backyard Medicine
Aromatic Oils
Section Three - Natural Living
Hospitality
Cleaner Cleaning
Green Gifting
Reducing and Reusing
A Natural Home
Appendix One - Quizzes
Appendix Two - Schedules for Groups and Homeschools
(The book is very flexible, and chapters do not build upon each other. You may complete the book in any order. Suggested scheduling is discussed for making this a one year or a two year program.)
Appendix Three - For Further Learning
Vintage Remedies 4 Girls
can be used for existing scouting groups, to form new girls groups, as a homeschooling curriculum, or to create mother/daughter projects throughout the year. Sample schedules are found in the book to adapt for homeschooling families, scouting groups, etc. as well as shopping lists for each project. A resource guide and tips for parents and leaders are also included.
So, how did it go? What did we think?
Let me start by saying that my daughter's first response was not so positive about doing this review--and then the book came. I did a quick skimming through the book and set it aside for when I had more time. When my daughter started skimming she disappeared. I didn't see the book again for several days. No, she did not hide it. She was reading and pouring over the many recipes trying to decide what to do first. **Insert big grin here**
We've discussed many topics covered in the book and are plugging away at the projects. We've talked recipes, gardening, and natural beauty. We've discussed making some of the health and body recipes (lip gloss, white chocolate bath meltaways, vanilla brown sugar body scrub) for gifts. We've talked about coughs, colds and Sore Throat Tea. We'll be discussing basic first aid and herbal balms, etc. We've decided we'll be planting herbs in the spring. We've brainstormed a bit on reusing old clothing. (Right now our old socks have been turning into puppets and funny monsters. Up next, old jeans will be turning into skirts, aprons, and purses.) Obviously this one is a keeper! We'll be spending time with this great book on and off for some time. I'm really considering checking into more Vintage Remedies products in the future.
The book is age appropriate since parental participation is suggested. This is an easy read with lots of information and useful ideas. We'll be using this as our "health" curriculum. The price does appear a bit high, but the information is well worth the price. We've already recommended this book and the Vintage Remedies line of products to a number of friends. This was one of those "I just love being part of the TOS Review Crew!" products.
***Best Deal:
If you have both boys and girls you can get the content of the Girls book AND the Guys book in a single, non consumable workbook with the
NEW Vintage Remedies for Tweens - for only $29.95!**
If you're interested in learning more check out these other offerings from Vintage Remedies by clicking
here
:
Natural Wellness Course: This is an introductory program. Upon completion, upgrades to additional programs are quick and easy.
Family Herbalist Course: This program is designed to help families transform their homes to become completely natural and healthy.
Holistic Wellness Professional Course: This program covers a broad range of holistic wellness modalities, including homeopathy, enzyme therapy, flower remedies and traditional herbalism, including nutrition and aromatherapy.
Clinical Master Herbalist Course: This program covers advanced herbalism, including botany, plant identification, phytochemistry, nutrition and aromatherapy.
At the website you'll also find a number of other products, resources and workbooks geared to various ages (preschool through adult). Click
here
to go to the Programs and Products offered at Vintage Remedies. (You can connect with Vintage Remedies on Facebook and Twitter too!)
(As an extra thank-you I also received a copy of
The Kitchen Herbal
, an excellent book about 18 traditional culinary herbs. I'm really enjoying this book too! Click
here
to check it out. It's a great buy at only $9.95.)

To see what other TOS Crew members thought of this and other Vintage Remedies products click
here
.
Disclaimer: As a member of the TOS Review Crew I received a free copy of the above-mentioned book in order to provide this review. I have not and will not receive further compensation. Thoughts and opinions stated here are my own. I am not obligated to provide a positive review.