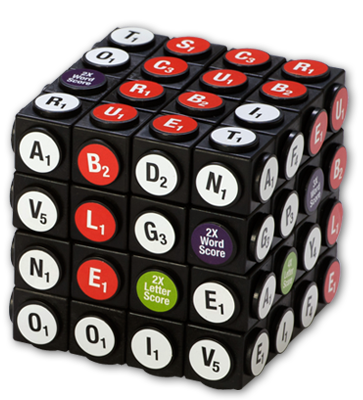 Scruble Cube
RSV Productions Inc
10014 N Dale Mabry Hwy
Ste 101
Tampa, FL 33618
Phone: 800-749-8920
Fax: 813-971-154
9
$24.95 Scruble Cube
$4.95 96 Replacement Letter Labels


1-4 players of any age that can spell
As a member of the TOS Review Crew I received an interesting and fun new learning game to use in order to provide this review. Let me tell you about
Scruble Cube.
This word game/puzzle is designed to engage students in learning while having fun.
Warning: Using the Scruble Cube may cause your child to improve his spelling, vocabulary and math!
How to describe this game . . . hmmm, how about in the words of the makers,
"So what if you took the known playing patterns of some of the most popular word games and puzzles in history and combine them in a brand new, unique format to create the World's Greatest 3-D Word Game? Well, you'd have the "SCRUBLE Cube" a patent pending game with over 7,401 septillion possible configurations that anyone who can spell can play. In SCRUBLE Cube there are 96 individually rotating letter and premium scoring pegs inserted onto a 4x4x4 cube."
If you're thinking of my favorite board game and a colored cube about now you're on the right track.
All of the letters have point values. At the end of a player's turn the scoring begins. There are Bonuses for words with a letter on at least three faces of the cube. Not just a board game, now you're thinking in 3-D--with no funky glasses that are red and blue!
Scruble Cube helps in the development of logical deduction, analytical processing and word development skills. Letters on the cube are combined in proportion to frequency of occurrence in the English language.
Some of the academic and life skills that can be learned while playing with the Scruble Cube include: mathematics trial and error, spelling, word building, research skills, mechanical skills, vocabulary development, teamwork, problem solving
skills, strategic thinking and more.
Click
here
to see how to use the Cube while educating your student.
The Scruble Cube website also has a number of
free downloads
including: Scruble Cube Points, Scruble Cube PDF Worksheets, Scruble Make a Sentence, Scruble Vowel Math, Scruble Word Logic and Periodic Table of Scruble Fun. Printable instructions and a printable scorepad are also available.
Just like that fun colored cube you used to try to get back to normal, you can also play Scruble Cube as a puzzle where you return the cube to its original configuration which spells "Scruble Cube" in two directions.
For more information about the Scruble Cube as seen in other reviews and on TV click
here
.
Talk to Scruble users and share your scores and playing ideas on Facebook
here
.
Buy your Scruble Cube Now
here
.
Click
here
you to find out what other Crew members thought of the Scruble Cube.
Thumbs-up points:
We liked the many options of how to use the Cube. We also liked the possibilities for learning. The idea is great, and for the amount of time that we've had it, we do like the Cube. My daughter, not the world's greatest speller, actually even thought the Cube was "kinda fun". My husband and I both thought this was a product that "could be addicting". We tried a number of different ways to play the suggested games and found them challenging and fun.
Thumbs-down points:
Using the Cube is more complicated than we expected. This comment is not a problem, but I couldn't help wondering if a cube with less individual cubes would be more workable for younger ages. In addition, while preparing this review, the Cube rolled off the bed onto the floor and broke into many little pieces--literally individual cubes. Thankfully we had a chance to spend time with the product before the "explosion". While I do understand that the company has excellent customer service, I don't think we'll probably seek out a new cube. We try to get durable, hard-to-kill games for our family. Between constant use and an overly exuberant 6 year old boy, we have better luck with metal, wood, and very strong plastic at our house. One of the first things my little guy wanted to do was pull off the letter stickers. Although the stickers are replaceable, we felt that we had to limit his use of the cube. My daughter also felt like the twisting the cube to adjust letters to make a word was not very smooth.
Overall:
We liked the concept and ideas for use of the Scruble Cube. We love games here, especially word games and math games. We play our games a lot, and we can be hard on our games and even wear them out. Just because we're not sure this is a good fit for our family, is not a reason to discourage readers from trying the Scruble Cube.
Disclaimer: As a member of the TOS Product Review Crew I received the above-mentioned product free to use in order to provide an honest review of the product. I have not and will not receive further compensation for this review. Opinions and comments are my own. I am not obligated to provide a positive review.