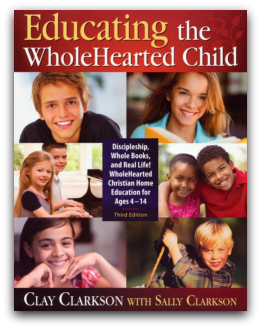 Educating the WholeHearted Child, 3rd Edition
Clay Clarkson with Sally Clarkson
Apologia Educational Ministries
1106 Meridian Plaza Suite 220
Anderson, IN 46016
(888)-524-4724
www.apologia.com
$22
For parents who are educating their children ages 4-14
As a member of the TOS Review Crew I recently received a free copy of Clay and Sally Clarkson's
Educating the WholeHearted Child
. Let me tell you about this interesting and challenging book which is about discovering God's design for raising children. The book is meant to provide a homeschooling model based on biblical principles of nurture, discipleship, instruction and learning. The book I received is the newly revised and expanded version. The Clarkson philosophy is that Christian homeschooling should begin with the sure foundation of a Christian home. This book provides tools that are suggested to help parents ensure that foundation. The cover of the book says it all when it states
"Discipleship, Whole Books, and Real Life! WholeHearted Christian Home Education for Ages 4-14"
.
See the Table of Contents
here
The Table of Contents Includes a Preface, Introduction and 4 sections including Home, Learning, Methods, and Living. These sections are followed by a Postscript Challenge about Keeping Faith in the Family. The final part of the book contains Resources including suggested books and forms.
(WARNING: TEASER MAY CAUSE DESIRE TO FIND BOOK ASAP !)
Take a peek at some of what is in the major sections of the book:
SECTION 1: HOME
(Covers things such as Learning to Be at Home With Christ, Learning at Home to Be with Christ, Shepherding Your Child's Spirit to Long for God and more)
Ten Good Biblical Reasons for Homeschooling
Biblical Principles to Consider
Specific Scriptures to Consider about parenting, your children, christian life
Be Ready to Live by Faith
Be Confident as a Homeschooling Parent
Answering the Legal Question
Answering the Education Question (chart - classroom vs. home education)
Answering the Socialization Question (chart - conventional vs. home school)
Answering the Qualification Question (chart - classroom teacher vs. parent-teacher)
The Biblical Case for Home Nurture
LifeGIFTS - Grace, Inspiration, Faith, Training, and Service
Feed Your Children with Fish (Faithfulness, Integrity, Self-Discipline, Humility) and Bread (Bible, Relationships, Eternal Perspective, Authority, Disciplines)
Leading with Sympathy (vs. Strictness)
Leading with Encouragement (vs. Guilt)
Leading with Love (vs. Neglect)
Leading with Instruction (vs. Information)
Correction (Spiritual, Verbal, Behavioral, Physical Discipline)
Protection (Unhealthy Appetites, Unwise Relationships, Ungodly Media)
Building Mental Muscles (Language, Appetites, Habits, Creativity, Curiosity, Reason, Wisdom
Cultivating a Positive Learning Attitude
Cultivating a Positive Teaching Attitude
SECTION 2: LEARNING
(Covers things such as Living and Learning Together at Home, Creating a Home You Can Learn Within and more)
Giving Your Child a Designer Education
Schools of Schooling (Public, Private, Independent, Homeschooling)
Schools of Homeschooling
Curriculum-Centered - Printed Curriculum, Virtual Learning
Content-Centered - Classical Approach, Unit Studies, Principle Approach
Child-Centered - Unschooling, Moore Formula, Montessori Method
Home-Centered - Whole-Book Method (Living Books), Charlotte Mason Method
12 Pillars of WholeHearted Learning
5 Focused Study Areas (Discipleship, Disciplined, Discussion, Discovery, Discretionary)
Designing a Learning Room
Building a Home Library
Acquiring Good Books
Living Book vs. Textbook Chart
Books to Avoid
Managing Home Media
Evaluating Curricula and Workbooks
Deciding About Tests and Grades
Personality and Learning Styles (Doer, Helper, Mover, Shaper)
SECTION 3: METHODS
(Covers Discipleship Studies Methods, Disciplined Studies Methods, Discussion Studies Methods, Discovery Studies Methods and Discretionary Studies Methods)
Discipleship (Bible Knowledge, Bible Reading, Bible Devotions, Bible Study, Bible Instruction)
Disciplined (Beginning Reading, Language Arts, Writing and Composition, Math, Thinking Skills)
Discussion (Reading Aloud, Reading Alone, Narration, History, Geography, Fine Arts, Unit Study, Context Study, Memorization and Recitation, Speaking and Presentation, Storytelling)
Discovery (Creative Arts, Drawing and Coloring, Creative Play, Nature Study, Creation Science, Hands-On Science, Foreign Language, Computer, Internet, Audio/Video Production)
Discretionary (Real-Life Learning, Private Lessons and Mentors, Library, Field Trips, Study Groups, Home Workshops, Living and Learning Notebooks, Standardized Tests)
SECTION 4: LIVING
(Covers Family, Structure, Order and Support)
Father - The Head of the Home
The Godly Father (FATHERS - Faith, Authority, Training, Humility, Encouragement, Responsibility, Service)
7 Secrets of the Home TEACHER (TEACHER - Time to Talk, Enthusiasm to Explain, Ability to Apply, Confidence in Christ, Humility to Help, Encouragement to Explore, Responsibility to Remind)
Mother - The Heart of the Home
Walking With God on his PATH (Purpose, Assurance, Trust, Heart)
Following God's Heart for Moms
The Life-giving Mother (LIFE - Love and Liberty, Inspiration and Imagination, Fun and Feasting, Engaging and Enjoying)
Knowing Your Purpose, Priorities, Plans, Principles, Personality, Breaking Point, Provider, Path
Characteristics of an Orderly Home
FIRST 5 Priorities of Home Management (Managing Family, Information, Rest, Stuff, Time)
Homeschool Support Groups, Books, Mentors, Small Groups
Here's a peek at what is in the Resources section of the book:
A: Books for the WholeHearted Family

(Family Sampler list of Favorite Books including Classic Children's Fiction, Modern Children's Fiction, Illustrated Storybooks, Fables, Fairy Tales, and Fantasy, Poetry and Art, History and Biography and Miscellaneous Sets, Series, Readers)

B: Books for WholeHearted Learning

(Sampler of Books for Christian Homeschooling including Home and Parenting, Fatherhood and Motherhood, Young Men and Women, Devotions and Discipleship, Homeschooling and Books, Reading and Writing, Thinking and Speaking)

C: Forms for WholeHearted Learning

(Including Agenda, Overview, Planner, Task List, Project Planner, Reading Record, Book Report, DiscipleSheet, DependableList, 24 Family Ways (Godly Character), 24 Ways (Biblical Values), LifeGIFTS Discipleship Planner, Devotional ARTS Planner, Bible Reading Record, Bible Reading and Devotional Journal, 1 month calendar planner, 1 week calendar planner, Family Chores Chart
See a Sample Chapter

here
My WholeHearted Opinion:
Once again I am impressed by another offering from Apologia. I really like this book. Filled with great ideas, models and forms to use, as well as some of the most relevant and encouraging scripture, this book is one that will stay handy at my desk or bedside. The manner in which information is arranged in this book makes it quite easy to read in small chunks--which is what you'll most likely do too considering the 376 page length. I really enjoyed the honesty and family tidbits in the "In Our Home" sections sprinkled throughout the book too. Although I did not read previous editions, I think this 3rd edition is definitely a keeper to refer to often. I found many ideas for personal growth and felt challenged to examine where we need to make changes in our homeschooling. Great job Clay and Sally Clarkson!

See other TOS Crew Thoughts

here
Order Your Copy

here
Disclaimer: I received a free copy of
Educating the WholeHearted Child
from Apologia to read in order to write this review. I did not and will not receive further compensation. I am not obligated to provide a positive review. All comments and opinions are my own.