http://www.e-mealz.com/
This program is designed for parents, but could easily be used with older children learning about cooking, menus, and budgeting/comparison shopping.
To
sign up
for your E-mealz
(pay with your debit or credit card)
For answers
frequently asked questions
As a member of the TOS Review Crew I recently received a free 3 month trial of E-Mealz, a menu/cookbook/budget plan/grocery list online meal planning program.
(Whew!! Try to say that mouthful 3 times fast.)
Let me explain a bit about it to see if this might help you get your budget on track and meals on the table without the usual chaos.
The creators of E-Mealz were inspired to put together this program because of frustration with getting dinner together for the family. To add order around an evening meal and have face-to-face time were their primary goals. This website, the ultimate accomplishment, is a system that puts together a weekly meal plan coordinated with grocery store current sales to maximize the grocery budget. (Budget guru, Dave Ramsey, even endorses this one!) The creators feel that families should be "making time for the family". (see
http://www.maketimeforfamily.org/
) This program is how they propose to do just that. This tool is quite easy to use and easy to customize. Here's
how it works
:
First, Choose a Plan
Now, about those plans, you can pick from quite a variety including:
1. Diet Specific
Low Carb
Portion Control
Low Fat
Vegetarian
Gluten Free
2. Grocery Store Specific
(based on weekly sales) :
Kroger
Aldi
Publix
Ralphs
Walmart
3. Any Store
4. Plans for Two
Second, Print & Shop
Once you've determined which plan you want to use, you just print coupons for that store's current sales and go shopping. The program menus are available for download weekly (plus one additional week) after that they rotate off and a new week comes up to download.
Third, Cooking & Family Time
Lastly, you just cook the suggested meals with the ingredients purchased (and some of your own staples) and voila, easily put together family meal time.
There are
regular family meal plans
which serve 7 meals for 4-6 people,
regular meal plans for two
which serve 5 meals for 2 people,
specialty family meal plans (Gluten-Free, Low Carbohydrate, Low Fat, Portion Control, and Vegetarian)
which serve 7 meals for 4-6 people, and
specialty meals plans for two
.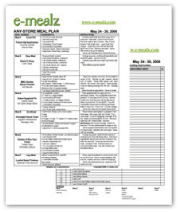 Sample plans are available at the website to give you an idea of how the system works. Each week you download and print 2 pages. The first page contains the menus for the week (for dinner only), ingredients needed, and instructions for making the food. The second page is a shopping list, with required items listed, by department and price. At the bottom of the second page is also a list of staples needed for each meal.
Some of the many meals you will find include things like Swiss steak, easy baby back ribs, pizza salad, chicken kabobs, crispy almond chicken, pork creole and rice, enchilada pie, Italian sausage loaf, savory ham and swiss subs and a variety of other tasty creations. (There were a few recipes that weren't half bad, but they were not foods we would eat often.)
So, how did it work for us?
We don't have any of the suggested stores except Walmart so we chose the Walmart, regular family meal plans. If the listed stores aren't in your area there is also an "any store" option. We purchased the needed items for the meals, but we found that it would be hard for us to keep up with the program.
After reviewing the meals listed for the plan we came to the conclusion that this wasn't going to be an easy task with a family consisting of 2 picky eaters and 2 parents who grew up with German and Scandinavian foods. While the meals were not outrageous or strange items, many items were not something the majority of the family would eat on a regular basis.
Granted, it is convenient to have a menu plan, recipes and your shopping list in one place--that's the part of the concept this mom thought would be great. I really wanted this tool to be helpful, but ultimately decided it was not working for our family. Perhaps one of the biggest reasons, other than picky eaters, that we wouldn't probably continue the program is the fact that the plan is for the weekly dinners only. At $65-$85 per week for just dinners our food budget would be pretty hard to manage. We are pretty frugal, and we have had months where we may only spend around $150-$200 per month for food (getting harder to do that with the economy what it is today though). Ultimately, to continue this program, we'd have to most likely only be eating the one "real" meal, dinner, which likely wouldn't be very popular food for our family, and not spend much for other food monthly. In addition, as a homeschooling family, we are home much of the time for 3 meals a day. We have the time to cook, teach and encourage our children to cook, and make menu planning, shopping, and budgeting part of everyday learning. We also take advantage of our own and other local garden produce, hunt and fish. (Often gardening is part of our learning plan, and hunting and fishing are part of our science/zoology lessons. We could dissect a fish to learn the parts, but we clean a fair amount of fish and check them out as we're doing it.)
Please don't take my comments to mean this couldn't work for some families. I could see this being a good program for a family on the run a lot, eating out a lot, or perhaps not monitoring what they spend on food quite so closely. The price is economical at $15 for 3 months (just $1.25/week). If you need a coordinated menu plan to have variety and make meals a "family time" this could be a good option. It would probably be more helpful somewhere where the other specific store options are available. Just a note, the plan auto renews for the next 3 month period unless cancelled at your request, before end of 3 month period - no refunds for late cancellations (you will be charged). I'm not one to go for auto-renewal plans for the most part (too easy to forget), but that is a personal preference.
You are allowed to make 1 menu plan change (for example, from gluten-free to vegetarian) per 3 month subscription period. Although I do understand the reasoning behind this limitation, I suspect this might not be very popular with families with food allergies or a need to explore different meal options.
The good news is that you can tweak the recipes to fit your family. It is also possible to add another vegetable or side dish to adjust a meal. The meals are planned with side dishes, salads, etc. Keep in mind that the menus seem to use a fair amount of prepackaged food. The prepackaged items would make this program easier for some, but we wouldn't likely use these items. We make our own "cream of" whatever, mix our own spice mixes (think taco spices, salt-free seasoning, Italian seasoning, spaghetti spices mix, hot chocolate mix, pancake/waffle mix), grow our own salad ingredients, etc. All in all, E-Mealz is a great concept and very likely a wonderful plan for some, but this was not real workable for our family. But, then again, we already plan meals around sales according to our available funds, and it is unusual for us not to sit down to a "family meal" together every night.
Check out E-Mealz on Facebook
here
Connect with E-Mealz on Twitter
here
E-Mealz also has a
blog
you can visit
Visit
here
to see what other TOS Crew members thought of E-Mealz
Disclaimer: As a member of the TOS Homeschool Review Crew I received a free 3 month trial of E-Mealz to use and provide an honest review. I did not and will not receive other compensation. I am not obligated to provide a positive review. All comments and opinions are my own.