Time 4 Learning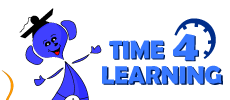 6300 NE 1 Ave, Suite 203 Ft Lauderdale, FL 33334
(954) 771-0914
Fax: (954) 827-7600
www.time4learning.com
$19.95 for the first child/$14.95 for each additional child/monthly membership
For my latest review as a member of the TOS Homeschool Product Review Crew our family received a free month membership to
Time 4 Learning
. Let me tell you a bit about Time 4 Learning and show you some screen shots to help you get a feel for it too.
A Time 4 Learning membership includes 1000+ multimedia lessons delivering standards-based math and language arts lessons--science, social studies and art are also an option in most grades. Art is available after the first month of membership for fourth through eighth graders. Each student gets an individual login and access to multiple grades--the grade above and below their own in most subjects. Students are able to work fairly independently while completing activities. Parents have access to lesson plans, teaching tools and automated grading and progress reports.
The math and language arts curriculum are designed to meet all state standards, but science and social studies lessons may need to be supplemented to meet individual state requirements.
Online lessons and activities may be used or worksheets may be printed
if desired.
Demos
are available for viewing, and a
Curriculum Overview
is also shown on the website.
 
Preschool Colors Game
 
Fractions

Latin & Greek roots

This online curriculum can be used for summer review, after school, preschool early learning, homeschooling, special needs learning, or just plain fun.
Time 4 Learning can be used alone or with curriculum such as K12, Charlotte Mason, Singapore Math, Saxon Math, ABeka, Five in a Row, Sonlight, Switched on Schoolhouse, Bob Jones University. The program even works fine with lapbooking and unschooling.
Art is available after the first month of membership for fourth through eighth graders. For many families Time 4 Learning is also a
great fit for their special needs students
(ADD/ADHD, autistic, dyslexic, visual learners).
 

Here's How It All Works
 
This computer-based
curriculum does not require you to download any software
-- members just sign in and get started. Preschool, elementary school and middle school are split into Lower Level and Upper Level on the site log-ins. Topics for the various grades may include:
Math
Social Studies
Science
PreAlgebra & Algebra Online
Online Art program - Time 4 Art (after the first month of membership)
Spelling Skills - including word lists by grade
Writing & Reading Skills (Online Reading Programs, Reading Comprehension, Writing Software, Phonemic Awareness, Phonics Curriculum, Elementary Grammar and Vocabulary)

Parent Community & Forum

Parent resources include a Parent Forum, Scope & Sequence and Lesson Plans.
In addition, parents also have access to information regarding:
Homeschool Portfolios - Homeschool Record Keeping
Homeschool Curriculum Reviews of Time4Learning
Secular Homeschooling
Getting Started Homeschooling Guide
Homeschool State by State Information
Information for Homeschool Charter Schools
At
$19.95 per month for the first child and $14.95 per month
for each additional child
the price is not too bad for the materials covered.
I suspect many larger families would not be able to afford the program easily since this is monthly.
There are no contracts, and you can cancel anytime by giving notice to discontinue membership. Time 4 Learning also offers a
2 week money back guarantee
!
Time 4 Learning will work on
PC or Mac
computers.
"Fast access"
(DSL or cable modem) to the internet
would be preferred
. Although we were able to access via laptop at various places with Wi-Fi/high-speed, this program really is not a good fit if you are on dial-up internet. Much of the site could not be accessed at dial-up speed. In addition, because most of the Time 4 Learning lessons use Flash technology,
iPads, iPhones and iPod touch are not usable options
.
Love it or Leave it?
I'm conflicted on this one. While filled with fun graphics, the curriculum content wasn't exactly a great fit for our family. The colorful pictures, activities and games definitely capture a child's attention. Topics seemed to be covered adequately, but some of the content seemed too simple for the grade level given. I suppose that could be taken care of by jumping to the next level perhaps. This wasn't a great fit for my 6 year old because he thought it was game time rather than learning time. Since the little guy wasn't getting into the curriculum, I opted to spend more time with my 14 year old using her level of the program. Although she said there were some "cool" and "fun" things, she also pointed out that stuff seemed a bit too easy. I was not surprised that she enjoyed the Playground games section. I'm sure the kids would continue to use the program occasionally, but this wasn't a favorite for either child.
I did like the ability to check on the progress of my children through the parent account. The reporting available could be great for documentation to prove topics covered. This isn't a real big issue for us right now though since we frequently monitor and always supervise our children while they are online.
My bigger conflict came in the content of the curriculum. We have tended to use Christian curriculum and resources while teaching our children. This curriculum is definitely secular in nature. The content was adequate but seemed odd at times and didn't quite fit for us. This doesn't mean the curriculum was necessarily bad, but I'm not sure that I could suggest this to parents who prefer Christian, scripture-based materials. It was fun to check out something new, but this is not a membership we would purchase.
Find out more thoughts from the
Crew
Disclaimer: As a member of the TOS Homeschool Product Review Crew I received a free month membership to Time 4 Learning for my children to use in order to provide an honest review of the program. I have not and will not receive further compensation. I am not obligated to provide a positive review. All comments and opinions are my own.