Griddly Games, Inc.
Head Office
633 - 5960 No. 6 Rd
Richmond, BC
CANADA V6V 1Z1
Phone
1 (604) 249 5020
www.griddlygames.com
Recommended Ages: 8+
$14.99

As a member of the TOS Product Review Crew I recently received a fun trivia game to check out. This one is fun and educational at the same time and is even compact enough to play while you travel. Let me tell you a bit about it.
Nature Nuts Travel Game/ Expansion Set is for ages 8 years and older and is designed to be played by 2 or more players. This is an educational, multi-generational, travel game and expansion set for the Wise Alec educational trivia board game.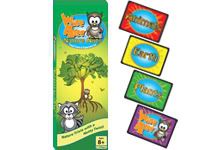 There are 4 sets of cards and a die included. On each turn players roll the multicolored die and pick a card which matches the color rolled. Players then read and answer questions about elementary school topics including animals, plants, and the Earth. The fun part comes when purple (my favorite color by the way) is rolled. The extra purple cards, also known as the Wise Alec cards, are really a surprise and might include croaking like a frog, doing a yoga pose or many of a variety of other nutty things. Play for points or play for fun. Either way both children and adults will learn a thing or two--plus math if you have them keep score. Yes, that means there were a few this mom missed too.
The game comes in a very compact box with a magnetic closure.
Yeah, no lost pieces!
Unlike the Wise Alec board game, no table is needed since there is no board, just the cards. Great for a take-along on a trip or sleepover. The trivia questions included in the game are educational, challenging and fun.
This one gets a "thumbs up" at our house. My 14 year old enjoyed the game a lot. She especially enjoyed that some of the tougher questions mom couldn't answer. We had fun, learned a lot and played a number of times the first couple of days we had the game. The age range seems about right, and the price is reasonable. We liked that we could throw it in a bag and take it along to grandma's house. The game seems to be durable and is colorful. The questions vary in difficulty allowing different skill levels to play without frustration. The only downside we found to the game was that we played so much that we started to remember the questions and answers on the cards. (The okay part about this is that it means my daughter was learning and memorizing the facts.) Personally I think this would be fun for ages 8-11 ideally--younger than 8 might have a tough time with the questions. I'm thinking it would be fun to get the Wise Alec game and use this as an add-on expansion too. If your kids are into learning games, this is a good option.
To visit Griddly Games to find out about Wise Alec, Nature Nuts and 2 other travel game expansion sets click
here
To find a local retailer who carries this Griddly game click
here
To see other reviews by the TOS Crew about this game click
here
Disclaimer: As a member of the TOS Homeschool Review Crew I recently received a free Nature Nuts add-on game for the Griddly Wise Alec game in order to present an honest review on my blog. I am not obliged to present a positive review. All comments and opinions regarding the product are my own. I have not and will not receive further compensation for this review.