Before Five In a Row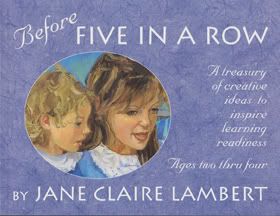 by Jane Claire Lambert
Five in a Row Publishing
P.O. Box 707
Grandview, MO, 64030-0707
(816)246-9252
ISBN 978-1-888659-04-7
www.fiveinarow.com
Steve Lambert at lamberts@sprynet.com
$35, exclusively available at www.rainbowresource.com
This is a guide for parents which contains creative ideas for learning readiness activities. It is for adults to use with children ages 2-4 years old. The book contains ideas and suggestions not printables and worksheets. **Ideas not Activities** Not all stories or activities have to be used or even done in the order presented.
Lately I've been using
Before Five in a Row
with my youngest. My youngest is not one to sit down, be quiet and listen to a story unless he's in the mood. He has loved all of the books we've read that were suggested in this book. We have discussed shapes, sizes, alphabet, colors, counting, animals of many kinds, and so many other things while reading together. This book has made the transition to sitting and listening a bit easier for me and my son. We've had fun reading stories, singing songs and sharing one-on-one time. Katy No-Pocket, ABC Bunny, Runaway Bunny and Goodnight Moon are the current favorites around here. We only accomplished some of the many activities suggested, and I'm thinking we'll continue looking at and discussing the stories and concepts for some time.
Did I need this book? Does anybody need this book? No, the book is not required reading. This book
does make the one-on-one learning of basic concepts easier and more memorable--and definitely fun.
I really like the way related Bible stories are provided for each story. The book and the stories used come from a Christian Worldview, but are not specifically Christian teaching. FIAR does provide
another book for Biblical teaching.
Let me give you an idea of how Before Five in a Row is presented:
This book is a guide to aid parents in engaging their children in creative learning readiness activities. The book contains 23 mini-units based on favorite classic children's books including:
Jesse Bear, What Will You Wear?
Yellow Ball
My Blue Boat
The Little Rabbit
Ask Mr. Bear
Blueberries for Sal
Goodnight Moon
The Big Green Pocketbook
The Runaway Bunny
The ABC Bunny
If Jesus Came to My House
Caps for Sale
The Carrot Seed
The Snowy Day
The Quiet Way Home
Play With Me
Prayer for a Child
I Am an Artist
Angus Lost
Katy No-Pocket
We're Going On a Bear Hunt
The Red Carpet
Corduroy
Jenny's Surprise Summer
Part One of the book contains Stories and Activities.
Each story section includes:
Title
Author
Illustrator
Copyright Date
Awards Received
Summary of the story
Reference and discussion ideas for a related Bible story
In addition, depending on the story, the following concepts are discussed as they come up in the stories):
Language Arts & Literature (alphabet, vocabulary, rhymes, nursery rhymes, poetry, etc.)
Science (weather, ponds, animals, plants, gardening, human body, shadows, health, etc.)
Math (numbers, counting, subtraction, shapes, etc.)
Art (colors, drawing, painting, watercolor, collage, etc.)
Character (Emotions and Relationships, fear, contentment, gratitude, thankfulness, etc.)
Music (suggestions for using songs with stories, discussion about basics notes, melody, etc.)
and more.
Part Two of the Book is the Parent's Treasury of Creative Ideas for Learning Readiness. This section include activities for reading readiness, ideas for incorporating music, suggested additional resources,
ideas for building your child's coordination and small muscle control, bath-time and kitchen activities and more.
I would definitely recommend this book to anyone with a toddler/preschooler. It's a good read, has lots of great ideas and suggestions and might make finding that one-on-one time reading together a lot more fun!
For more information about the author and this and other Five in a Row products click
here

To see what other TOS Crew member thought of this book click
here
Disclaimer: As a member of the TOS Product Review Crew I received a free copy of the above-mentioned product to use in order to provide an honest review of the product. I have not and will not receive further compensation for this review. Opinions and comments are my own. I am not obligated to provide a positive review.