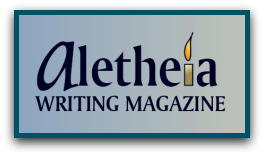 Alethia Writing Magazine -
Creativity for Christian Teens
P.O. Box 1602
$26 US $29 Canada (price includes shipping)
4 issues per year, 40 pages, colored illustrations and pictures
Recently I received a free copy of Aletheia Writing Magazine to read in order to provide a review for the TOS Homeschool Product Review Crew. This quarterly magazine is a place where teens can share their artistic and writing talents. The magazine is open to all Christian teens and their families, and many of the teens who have been published in the magazine are homeschoolers. Teens who are chosen to be published receive no pay but receive 3 free copies of the magazine.
Each issue includes art and writings of contributing teens, a Writer's Challenge, the Featured Contributor, a book review, Glory to God for the Beauty of Nature, Ancient Ink and and an interview or other feature. Here are pictures of the cover of the Fall 2011 issue and it's table of contents to give you an idea what the magazine is like.
Aletheia means "truth" or "unveiling", and the art and writings chosen for each issue are those which "unveil" Christian truths. (The stories and poems in the magazine are not about apologetics, Bible doctrine, plainness, etc..) Content that is accepted includes:
biographies of Classical authors, composers, musicians and artists

historical and culture essays

philosophical essays

personal experiences of growth and faith

other related topics regarding wisdom, nature, stewardship, etc.

no violence, inappropriate sexual content or profanity is accepted
Fiction Book Reviews are also acceptable if they nurture faith and life. The Book Reviews do not necessarily have to be about books written by Christian authors and may include different types of genres. Philippians 4:8 is a suggested reference for acceptable content. (true, noble, just, pure, lovely, of good report, virtuous, praiseworthy) The Publisher/Editor, Nick Muzekari, is also a writer and provides insight to teen authors who are trying to improve their writings. Submissions are all submitted electronically and contributors are contacted within 1 week to 3 months.
The concept of a magazine written by and for teens.
The short stories, poems and book reviews were well-written.
The pictures and photographs included in the issue we read were great--very talented contributors.
We also liked that the magazine as a whole was put together in a very professional manner.
While this mom is into writing, my teen daughter is not. She said the magazine was okay, but she didn't get very excited about it's contents. She did like the artwork and photographs much more than the writings. As a whole she thought the magazine would be good for teens who are more interested in writing and perhaps a bit older. I found some of the content to be age appropriate for my 14 year old, but I think 15-19 would be a better fit. I was not terribly thrilled about some of the fantasy content, but that comes from personal preferences for materials we read and my personal beliefs. My daughter said that depending on what she was reading she wouldn't necessarily have guessed from the content that this was supposed to be for "Christian" teens. However, even the items I was not excited about were well-written.
To see what other TOS Crew members thought of this magazine click
here

Disclaimer: As a member of the TOS Product Review Crew I received a free copy of the above-mentioned magazine to read in order to provide this honest review. I am not obligated to provide a positive review. Opinions and comments are my own. I did not and will not receive further compensation for this review.