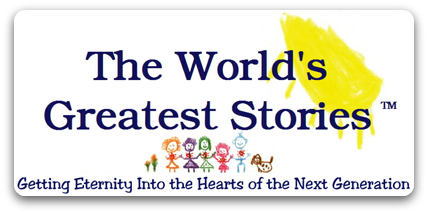 The World's Greatest Stories
Told by George W. Sarris
For more information or to purchase:
www.WorldsGreatestStories.com
1-888-STORIES
Ages 4-adult
$7.95 per volume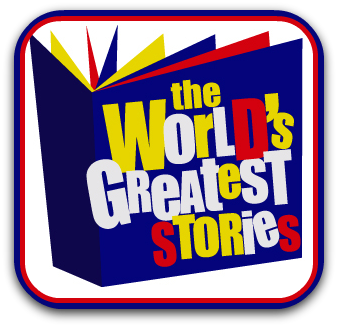 We've been listening to some dramatic presentations of Bible stories lately. Let me tell you about them. As a member of the TOS Review Crew I received a CD of
Volume 1 - The Prophets
from
The World's Greatest Stories
in order to provide this review.
Unlike fictional stories, the characters and events of Bible stories found in this series are taken directly, word for word, from the Bible and told using a dramatic storyteller, music and sound effects. George Sarris present a very dramatic version of each story--constantly changing voices and accents as the characters interact with each other. The current series contains a total of 18 individual stories on 5 CDs or cassettes. The stories are presented in either the King James Version or New International Version. Each volume is about 1 hour long.
Here's what you'll find in each volume:
Volume 1 - The Prophets (The Blazing Furnace, The Handwriting on the Wall, Daniel in the Lion's Den, Elijah and the Prophets of Baal, The Prophecy of Jonah)
Volume 2 - The Life of Christ (The Real Story of Christmas, The Baptism and Temptation of Jesus, The Healing of the Blind Man, Things Jesus Said and Did, The Real Story of Easter
Volume 3 - Beginnings (In the Beginning, A Lame Man in Lystra, A Jailer in Philippi, The Story of Ruth, The Raising of Lazarus)
Volume 4 - Joshua and Esther (The Battle of Jericho, The Book of Esther)
Volume 5 - Joseph and His Brothers (Joseph and His Brothers)
**New** Volume 6 - Defeating Giants (David and Goliath, Namaan the Leper, Micaiah the Prophet and Jehoshaphat the King, The Sacrifice of Isaac, Gideon and His 300 Men)
What did we think?
When I found out we'd be listening to the Prophets CD I was very interested to see whether these would be good to help my kids learn and remember some important Bible stories.
First, the
suggested ages
--not so sure on this one. Although stated to be for ages 4 to adult, these stories seemed a bit too dramatized and quick moving for age 4. I think 6-8 years old would be the youngest I would expose to these stories. My 6 year old listened, but honestly, these just moved too fast for him. My 14 year old thought the stories were actually not too bad, but she didn't care to listen for very long at a time.
Next,
the dramatization
--the storytelling was good, but it didn't feel like direct from the Bible while listening. I personally felt distracted by the dramatization (like it was a bit too much) and found myself thinking about the voices, etc. instead of getting a good understanding of the story. I think these CDs would be a good listening choice in short spurts in the car, for personal/family devotions or bedtime listening. I don't know if we'll purchase any other volumes, but the CDs are good - just not quite the right fit for us at this time. Mr. Sarris did a very good job of dramatization/narration. I admire him for the time and effort put into these CDs. I would definitely consider getting these as gifts for friends who like to listen to dramatized stories.
Last, the
price
is quite reasonable for the content found on the CDs. Another thing to
keep in mind if you find that you like these stories--there is free shipping if you order 6 or more items!
The CDs would probably rate a 7 of 10 at our house--a thumbs up product.
You can listen to samples by going to
links
on the website.

Check
here
to see what other TOS Crew members thought of these stories.
Disclaimer:
As a member of the TOS Review Crew I received a free copy of the above-mentioned CD in order to provide this review. I did not and will not receive further compensation. Thoughts, comments and opinions expressed here are my own. I am not obligated to provide a positive review.