E-Book: The Curiosity Files™- Red Tide
2010 The Old Schoolhouse Magazine, LLC
P.O. Box 8426, Gray, TN 37615
http://www.theoldschoolhousestore.com/
CD of all 9 Curiosity Files (Blue Diamond, Dung Beetle, MRSA, Puffer Fish, Red Tide, Zombie Fire Ants, Blue-footed Booby, Cicada Killing Wasp, Quicksand) - $49
Downloadable E-books of all nine units - $46
(If you're interested in purchasing individual units, please refer to the Old Schoolhouse Store for pricing details.)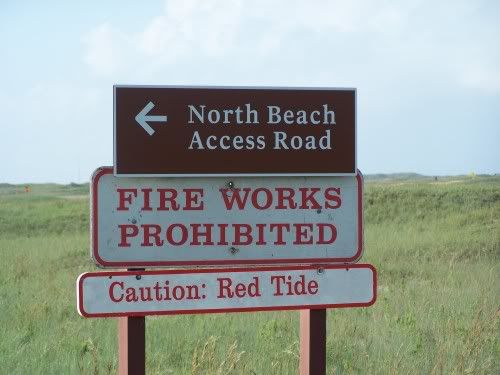 What do you know about Red Tides? Why the caution sign above? Think beautiful but deadly. I recently received a free download of the Red Tide E-Book, part of The Curiosity Files science units from TOS to review. This unit is part of a new series from The Old Schoolhouse which contains Explorations With Professor Ana Lyze—Expert in Outlandish Oddities. This is a fun unit study for kids ages 8 to 13, but it can easily be adjusted for younger and older children. There is even a lesson for special needs children included.
In this unit we got to explore the mysteries of red tides. We learned about algae, toxins, food chains, the history of red tide fish kills, oceans, microscopic organisms and more. My 13 year old daughter really enjoyed reading this unit. She found it easy to understand and thought the activities and quizzes included were fun and helpful in learning about these strange occurrences.
Did you know red tides
are actually a build-up of microscopic algae when certain conditions occur

can cause these algae to build up in the tissues of shellfish and make them dangerous to eat

are also called Harmful Algal Bloom (HAB)

are actually all about the algae, not the tides

occur almost annually along the Florida waters

have been documented since 1844

might be caused by something from the Sahara Desert

occur worldwide

may even go back as far as 10 A.D.
That's a picture of one below.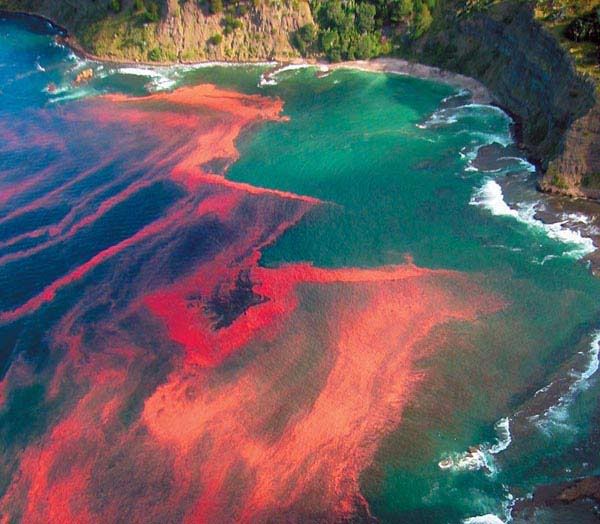 We talked about the causes of the "red" tide, where these tides occur, how the sea life is affected and things that humans should do for safety if they encounter a red tide. We found out that these occurrences can actually be a number of colors besides "red". We also learned that these tides have been occurring for a very long time and are not just the result of recent pollution or global warming.
Professor Ana Lyze and her team tackle the abnormal and the bizarre things in nature through a variety of lessons. The unit helped us explore the tides through writing, games, math (metric system and percentages) and real life concepts. We learned some new vocabulary and did some copywork too. There were also many links to other places where we could continue our research as we have time. The vocabulary activities and spelling worksheets cover both elementary and middle/high school so I could tweak the unit to fit the skills and needs of my daughter. I really liked that option. (My daughter was able to use this unit fairly independently.)
In the Lab brought on a scavenger hunt after we talked about food chains and food webs. We looked at some history and checked out timelines and maps. There was such a great variety of materials included in the E-book that we had a hard time fitting it all in. I'm thinking that we'll be taking some of the information we've learned and make a lapbook next. This really was a fun way to learn.
This unit included things like Bible study, discussion topics, memory verses, math, history, geography and much more. We found some really interesting links and other books to read too. We even talked about experiments we'd like to do when things are a bit warmer. We did crosswords and word searches and had fun. (By the way, there are complete answer keys provided for the activities/puzzles.) This unit is 90+ pages, but you can print just those that you want to use.
See other products from this publisher
HERE
.
These units are very reasonably priced for the enormous amount of information and activities included. (See prices above and follow the link to The Old Schoolhouse Store. Another great thing, all E-Books published by The Old Schoolhouse® Magazine come with a 7-day, 100% money-back guarantee!


I received a free download of this E-book in return for an honest review of the product. Opinions and observations are my own, and I am not obligated to provide a positive review. No further compensation was received.
To see what other members of the Homeschool Crew had to say about the Curiosity Files click
here